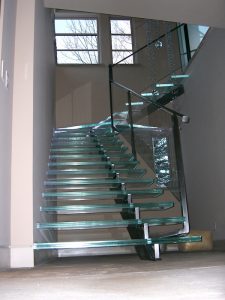 Goals and Vision: A stairway that looked like it was floating, glass if possible. One stringer thin to minimize its appearance. The railing newel posts would attach to the single stringer. The stairway tapers and the expands back. The landing would be two smaller pieces instead of one large piece. Treads held in wall pockets, a press fit. Attached to the stringer with optically clear epoxy. No visible fasteners – no visible sign of what held it all together.
Every connection was concealed, and of course what appeared effortless was the exact opposite. Heavily engineered, there are special concrete footings and three very specialized structural steel posts buried out of sight and bolted together in place to hold the single steel stringer securely in place and keep any deflection to an absolute minimum.
Specific Challenges: Every single thing. Nothing had been done before and had to be discovered, tested and implemented. Precision required because of the complexity, although it looks so simple now, but both challenges were off the charts. The treads needed a slip free surface, and it was a long process to arrive at the correct blend of anti-slip with minimum visibility. We truly did not know how each step was going to perform until it was done. In the end it has seen a lot of use and never suffered more that a tiny scratch.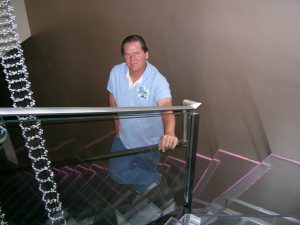 Sweating every detail on this project produced a lot of sweat. And it was obviously rewarding and an amazing learning experience. Once complete it was a complete success for the clients, delivering everything they could have hoped for.