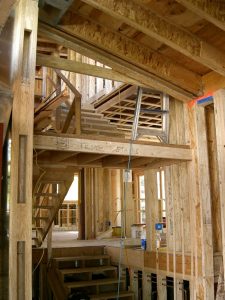 First Glance: This is what it looked like walking into this home, which was under construction, for the first time. I saw a challenge and visited a few times before the idea began to form in my mind. It needed any amount of depth it could get, and something really special in the middle to draw immediate attention.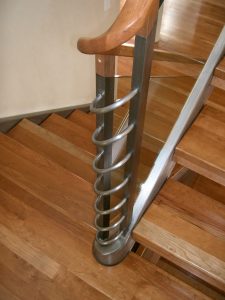 Goals and Vision: I started with a glimmer of the railing as sections of glass and then something separating them and tying the glass to many end points in the eventual railing. The treads would be solid cherry to match the floor, with perhaps a light under the toe of each tread. It occupied one side of the entry and had to be inviting from side to side.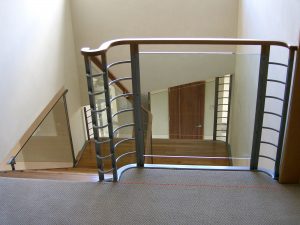 From the top was another problem to be solved. The faint red line on the floor was the original end of the upper landing leaving, leaving no room for the door or trim seen on the right. This added landing was uneven and twice as long on the right as it was on the left, unnoticeable, but allowing the landing to move out on the right side just enough for the doorway.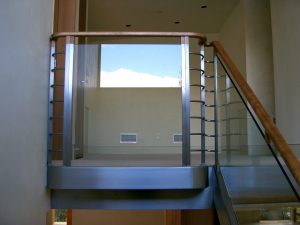 And here it is from the other side – it was a nice symmetrical element that added a flair to the upper landing and the problem was solved. 
Specific Challenges: Easily the biggest challenge was folding the center stringer in half, while ending up with the precise rise on each section. Allowed for a few adjustments in the field, but it was perfect the first time. A lot of field work to have it look flawless from below.