Steve Ingram is well know and recognized as being one of the leading artisans when it comes to the use of metal. Steve Ingram has always credited his father for introducing him to the endless possibilities of metal.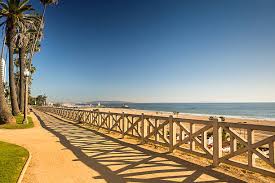 Steve's father owned a metal forming company back in the old days of Santa Monica, CA, only blocks from the beach – this is where his ideas and skills were first nurtured.  Spending weekends and summers down by the ocean was always great fun for Steve, but spending time in his father's shop allowed him to create things with his hands, from design to the finished product. He always loved working with his hands – and this has never changed, as is evident when looking at his projects over the years.
Steve said, "My father was a pretty amazing guy, he'd stare, chew on his cigar, maybe puff a few times and then light up with the answer – to him everything was possible. He always encouraged me to figure out how to make my ideas work, no matter how crazy.  Because of him I was exposed to many different metals, how to accomplish the different methods of welding, grinding and finishing the different types of metals. Many pieces of art also made their way through my father's shop, some were  on their way to the Getty Museum and  needed some repair – that is how I became exposed to the wonderful world of metal restoration."  Being a 3rd generation craftsman, Steve continued his research, skills and implementation of custom patinas in order to become a master patination expert.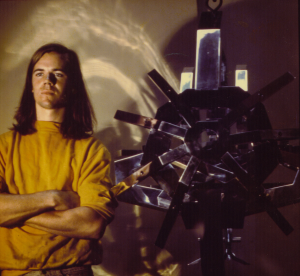 In addition to the everyday jobs that came through his father's shop, at the age of 17, Steve was commissioned by a doctor to fabricate an aluminum sculpture from a wooden mock-up the doctor had designed. The sculpture was named Ocularis. This became the first time in Steve's life that he was able to bring someone else's vision into reality. Steve shared that this was an extremely rewarding experience for him.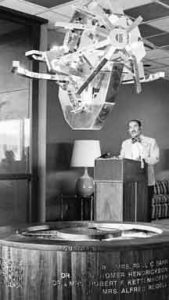 Being invited to the unveiling of Ocularis, which was hanging high from the ceiling at the school of optometry, was a truly wonderful experience for his then 17-year-old self.
From there Steve went on to study architecture and engineering in college, he said his need to always know the why and how of everything was the driving force behind his studies. After college he became a contractor in two different states, designing and building homes in the city, as well as high-mountain resort areas.  Over the years, after working on many projects, he was pulled in an even more artistic direction.  His love for functional art, using unique architectural elements, as an integral part of the structure, became his passion…this gave way to the birth of Architectural Expressions.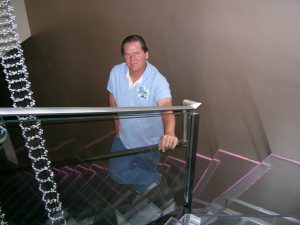 "Metal, wood and glass speak to me – they are both sustainable and green – forming some amazing organic pieces.  The use of these mediums has always pushed me towards more contemporary and modern designs. I have always admired an artist who has mastered his craft, so for me, knowledge and master craftsmanship are the two most important things I strive for in my life." – Steve Ingram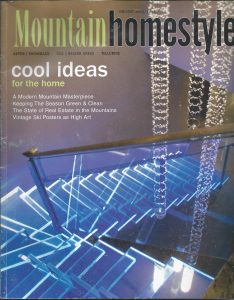 "There are three responses to a piece of design – yes, no, and WOW! Wow is the one to aim for." – Paul Rand
Here is one of the "wow" pieces Steve proudly created…featured in Mountainhomestyle magazine